Eric's Eccentric ENO Hub
You want to convert an existing frame, with vertical dropouts, to either fixed or singlespeed? Well, here's another 'why did no-one think of that before' product.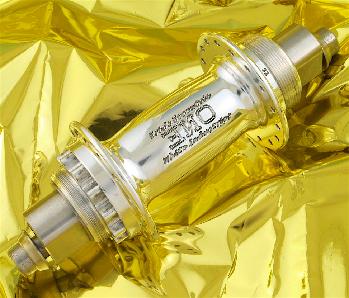 Eric's Eccentric was an idea from Eric - he contacted Doug White and life became easier for everyone else in the world. The hub is simple - a fixed/free shell, running on sealed cartridge bearings with an oversized axle. The ends of that axle are the clever part - they bolt into the axle and allow the wheel mounting bolts to sit 7.5mm off centre (eccentric - see!). This 7.5mm offset allows the hub to rotate in a 15mm radius around the dropout centre - allowing for easy and perfect chain tension adjustment in any gear combination. Yay!
The fixed side takes a White splined cog, so no more stripped thread woes - ever!
Available in 126, 130 and 135 spacing and 32or 36 hole drilling, silver standard or black by special order (please call to order black).
Cost is 189