ENO Disc Hub
This is the hub to run if your singlespeed frames has disc mounts.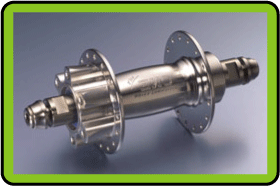 It's designed to run with IS 6 bolt rotors and runs on on two sealed cartridge bearings. Large stainless steel bolts allow you to lock it down tight. Available in 28, 32 and 36 hole drillings, only in a 135mm spacing. Black or silver.
Price is 170
Call or Mail for more cheesy schpeel...