XMR Disc Front Hub
The XMR has a one piece shell with integral machined rotor mount.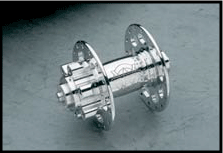 Running on a 17mm Cr-Mo axle, supported by two sealed cartridge bearings, this hub will run and run. The canted, high flanges are designed to give perfect spoke line, for a long lasting, sturdy wheel build. Available in a bunch of drillings and axle options. Hand polished and made in the USA.
Price of all this is 136
Call or Mail...