Venti Hub
This is the 20mm through-axle version of the M16 front.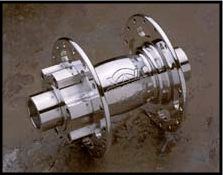 Using oversize cartridge bearings and high, canted flanges this hub will build into a super-strong, stiff front wheel. Hand polished and available in 32, 36, 40 and 48 hole drillings. Weight is 250g and it's USA made, all the way.
Price is £95
Call or Mail for more details...